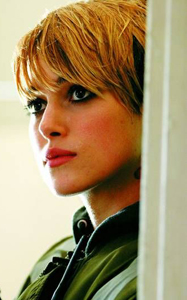 Height: 5'7" (1.7m)
Weight: 119lbs (54kg)
Hair: Blonde Eyes: Green
DOB: March 26th, 3113; Song, District 3
Position: First Sergeant; VTOL Pilot attached to the 6th Company, 1st Regiment.
Callsign: Speedy

Attractive, Gregarious

With short blonde hair and green eyes, along with her slender and athletic figure, Thea is without a doubt an attractive girl. Coming from District 3, Steele is a member of the recently wealthy class from the booming district capitol, and her clothing on and off duty certainly shows it. Wearing labels from even as far away as Tharkad when off duty, even her flightsuit is made from custom materials and cut, though it remains regulation. The only thing that tends to remain is the odd necklace that dips down to the hollow of her throat made of silver pieces and ivory.

While she is from a wealthy family, and she certainly doesn't seem ashamed of it, Thea rarely makes an issue of it herself. In fact, she refuses to talk about anything to deal with the source of her 'fun money', though she will practically talk your ear off about VTOL designs. Unlike most other conventional pilots, Thea seems serious about her service, requesting to join the 1st Regiment from the moment she graduated NCA. Though inexperienced before her tour with the Black Dogs, she has a natural gift behind the controls of any sort of aircraft, and has come as far as any other member of the Company.

Her current assignment is to pilot the Hammerkop assigned to the 6th Company, and currently has the record for the only pilot alive in the Guards to have done a cold drop. She also is known to be the only VTOL pilot to perform a suborbital drop... perhaps in the entire Inner Sphere.