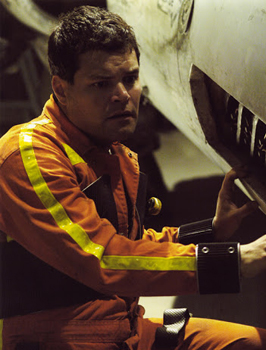 Height: 5'11" (1.80m)
Weight: 190lbs (86.1kg)
Hair: Dark Blonde
Eyes: Brown
DOB: May 12th, 3098; Vernazza, District 6
Position: Senior Warrant Officer: Tech Chief for the 2nd Battalion, 1st Regiment.

A beefy guy, Chief Tran certainly fits the look of a Technician. When not on duty he wears simple jeans and a shirt along with a fatigue jacket, but he's most often seen in his bright orange coveralls as he keeps his tech crew moving efficiently with barked orders and his own helping hand.

Growing up in District 6, Tran initially had dreams of being an Aerospace pilot, but his own natural talents eventually led him to the position he now holds. Considered one of the best crew Chiefs in the Heart, his skill and experience are a blessing to any unit he is assigned to.